Referring a patient for Periodontal treatment in Bracknell, Berkshire
Patients can be self referred or referred to us from their own dentist but only on a private basis.
At CrownWood Dental, we welcome referrals for patients that require Periodontal treatment, we are proud to have a specialist in Periodontics as part of our team.
If your patient is suffering from swelling, soreness, bleeding or inflammation of the gums this could be an indication of gingivitis or periodontal disease.
Most cases of gum disease can be treated by cleaning underneath the gums using local anaesthetic. This treatment is typically carried out over 2-3 visits over a period of around a month, however surgical treatment is sometimes required for the most severe cases. In certain situations it is possible to grow back the damaged periodontal tissues (regeneration).
Surgery can also be carried out to improve the appearance of an uneven gum line or gummy smile (crown-lengthening), to treat gum recession/shrinkage (mucogingival surgery) and to allow replacement of lost teeth with dental implants.
Refer your patients with confidence
Periodontal referrals at CrownWood Dental are carried out by our specialist in Periodontics Dr Raman Bhardwaj.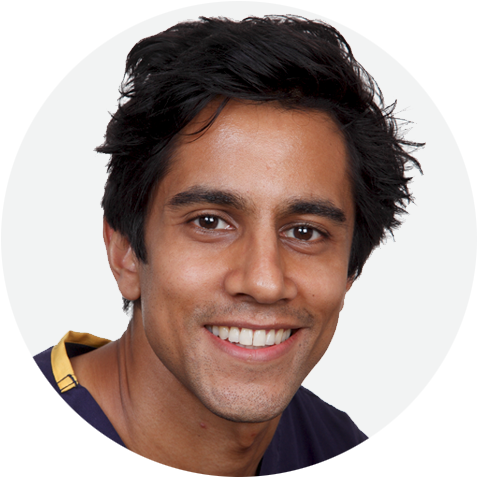 Dr Raman Bhardwaj - BDS (Bris), MFDS RCS (Eng), MClinDent (Perio), MPerio RCS (Ed)
Specialist in Periodonticts, Special Interest in Implantology
GDC Registration 85724
Raman graduated from Bristol Dental School in 2005. After completing his vocational training, he worked as a Senior House Officer in Oral Surgery, Restorative Dentistry and Periodontics at various institutions including Bart's and the London School of Medicine & Dentistry and Birmingham Dental Hospital.
As a Specialist in Periodontics, Raman's treatments include the non-surgical and surgical management of gum disease, mucogingival surgery for treatment of gum recession, crown lengthening surgery, periodontal regeneration, the placement of dental implants and treatment of implant complications.
Raman has a very calm and patient manner and listens to patients' concerns, ensuring they are fully informed of the treatment plan and their options.
In his spare time, Raman loves to travel and enjoys climbing mountains.
Special Interests
Periodontics
Mucogingival Surgery (correcting the effects of gum recession)
Crown Lengthening Surgery
Dental Implants
Memberships & Qualifications
GDC Registered Specialist in Periodontics
Master of Clinical Dentistry in Periodontics (following 4 years specialist training at King's College, London)
Membership in Periodontics at the Royal College of Surgeons (Edinburgh)
Faculty of Dental Surgery awarded by the Royal College of Surgeons, England
How to refer a patient for Periodontal treatment
If you have a patient who needs Periodontal treatment simply fill in our Online Referral Form or download our Freepost Referral Form. We also welcome walk in and self referrals please ask for Dr Raman Bhardwaj.
Dentist Referrals
Our Referral Brochure and Form are available to other dentists wishing to refer a patient to one of our specialists.
Downloads