Referring a patient for a CBCT Scan in Bracknell, Berkshire
Patients can be referred to us from their own dentist but only on a private basis.
The Sirona Orthophos CBCT Scanner
Advanced diagnosis for complex procedures & patient care
CrownWood Dental offers referring dentists a leading edge CBCT scanner, the Sirona Orthophos 3D SL26. This offers you a wealth of 3D information and high definition imaging to support your case planning without the need to invest in additional technology.
What is it for?
These X-ray images help towards the diagnosis, treatment planning and follow up of patients with conditions affecting the head, face, teeth and jaw. A CBCT scan is invaluable for the more complicated procedures such as Endodontics, Oral Surgery and Prosthodontics, including complex implant cases.
What does it do?
Whenever a 3D image is required we are able to take the scan in our X-ray room. The procedure is quick and easy for your patient.
Some important features:
Sharp layer technology automatically adapts the panoramic curve to the patient's individual anatomical features, ensuring that the entire jaw is always in the sharp layer.
DCS (Direct Conversion Sensor) technology converts X-rays directly into electrical signals, with no information loss due to light conversion.
Several hundred individual images are produced with the 3D X-ray in the space of just a few seconds. Using this data, the software generates a 3D image of the jaw section. A "virtual tour" of the scan means the data can be assessed from every dimension.
The scan is sent to you by secure email, the same day ready for you to use for accurate diagnosis, treatment planning and to discuss the treatment in detail with your patient at their next appointment. Alternatively, a disk is also given to your patient for you to use at your review appointment with them.
Clinician & Patient Benefits
More accurate case planning
Razor-sharp, high-contrast panoramic X-ray images of exceptional quality
Improved success rates with your procedures
Consultations are more accessible and understandable for patients
Safer - low dose 3D imaging at 2D dosage levels
Refer your patients with confidence
CBCT Scanner referrals at CrownWood Dental are carried out by Dr Chi-Yuen Wong.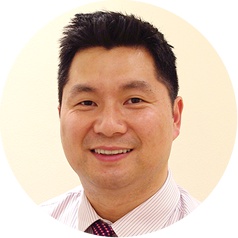 Dr Chi-Yuen Wong - BDS (Lond)
Dental Implants, IV Sedation & Orthodontics (Invisalign)
GDC Registration 74689
Chi is the Principal at CrownWood Dental. He is passionate about providing all patients with first class treatments and customer service.
In addition to his skills as a Restorative and Cosmetic Dentist, Chi has a special interest in the whole area of Prosthodontics and in providing permanent solutions to missing or damaged teeth. He offers premium dental implants using the Straumann system.
Providing expert teeth straightening, Chi has built an excellent reputation for providing invisible braces and offers Invisalign Full, Invisalign Lite, Invisalign i7 and Invisalign Teen. As a highly experienced Invisalign practitioner, Chi was recently awarded with the Platinum Invisalign Provider status.
In his spare time, Chi enjoys spending time with his family, travelling, scuba diving and watching football, especially if his team Liverpool are playing.
Special Interests
Dental Implants
Invisalign
IV Sedation for nervous & phobic patients
Memberships & Qualifications
Certificate in Implantology (1 year course) from Tipton Dental Training Academy, London
Accelerator in Practical Implantology (Training Camp for Oral Implantology, Berlin)
Invisalign Platinum Provider
Society for the Advancement of Anaesthesia in Dentistry (SAAD)
How to refer a patient for a CBCT scan
If you have a patient who would benefit from a CBCT scan simply fill in our Online Referral Form or download our Freepost Referral Form.
Dentist Referrals
Our Referral Brochure and Form are available to other dentists wishing to refer a patient to one of our specialists.
Downloads