Dermal filler treatment areas
Whilst many may think of dermal fillers as simply a solution to combat the signs of aging, there are actually a number of different aesthetic enhancements and alterations that can be made possibly using face fillers.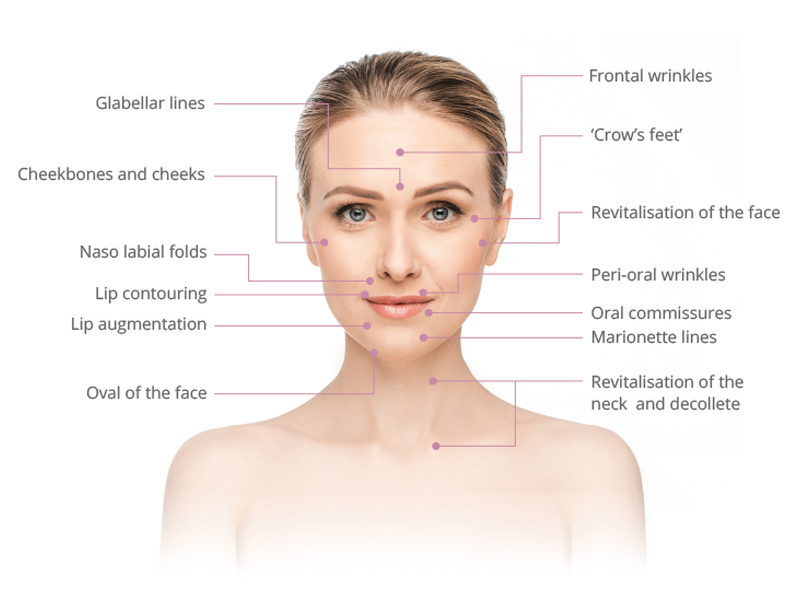 Types of dermal fillers we offer
When you come in for your consultation at the MediSpa in Bracknell, Berkshire, your expert practitioner will discuss with you any problem areas you're unhappy with and the kind of results you're hoping to see.
From here, they will offer the very best in professional and expert advice and guidance to help you choose the treatment solution that will work best for you.
Leading dermal filler brands include the following:
Teoxane
Teoxane is an injectable hyaluronic acid-based treatment designed to treat wrinkles, add youthful volume to the face and improve the quality of the skin. It can specifically benefit areas such as the perioral and periorbital and can significantly improve facial appearance.
Restylane
Restylane is Stabilized Non-Animal Hyaluronic Acid gel (NASHA). When injected into the skin, this gel simply gives nature a helping hand by restoring, enhancing and refreshing your skin's natural vitality.
Restylane is suitable for use on both men and women, and it also has full European approval (CE-Mark) for the last 10 years.
A clinical study recently found that 98% of Restylane lip filler patients reported a visible improvement in the fullness of their lips just two weeks after receiving the treatment. 77% also said they could still see "incredible" results six months after application.
Restylane uses a unique formula to fill out any lines and creases in the lips whilst boosting their volume, resulting in flawless, full lips.
Juvéderm dermal fillers
One of the most popular hyaluronic fillers on the market, Juvéderm is designed to add volume to specific areas of the face to lift up the cheeks, smooth out any lines and wrinkles, or plump up lips for a full and youthful appearance.
Emervel face fillers
Emervel is another of the top brands of dermal fillers on the market today. This formula helps to create instant, natural-looking results that revitalise your face; smoothing away lines and restoring volume in all the right places to combat the signs of aging and define your features.