What is a Dermatologist?
Dermatologists are specialist physicians who diagnose and treat diseases of the skin, hair and nails. All dermatologists are medically qualified, and undertake the same university training as other doctors. After qualifying, they spend at least 4 years training in general (internal) medicine, to get experience of other medical specialties (e.g. emergency medicine, rheumatology, cardiology).
During this time, dermatologists must pass the exams to become Members of the Royal College of Physicians (MRCP). Following MRCP, trainees are required to pass the final Speciality Certificate Exam (SCE) for board certification.
Many may then go onto the optional higher level training for research which leads to an MSc or PhD degree and/or to develop expertise in one of the dermatological subspecialties (e.g. dermatological surgery, paediatric dermatology, contact allergy, photobiology).
Dr Lee has completed Speciality Certificate Exam, bears a Masters Degree in Aesthetic Medicine in research for Skin Ageing at the University of Manchester, as well as being the current clinical lead in Skin Allergy Service and Patch Testing at Frimley Park Hospital NHS Foundation Trust.
What is a Speciality Doctor in Dermatology?
The Specialty Doctor posts are dermatologists committed to a career in the hospital service for a number of reasons such as family commitments or career outside medicine, and those who do not want the full load of a Consultant post.
Example of wart treatment before and after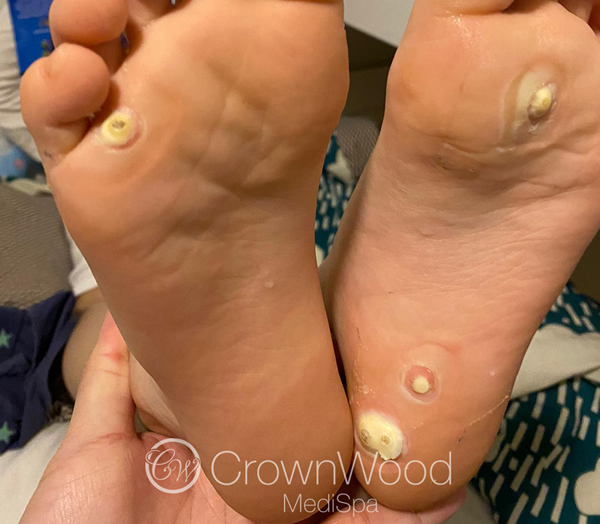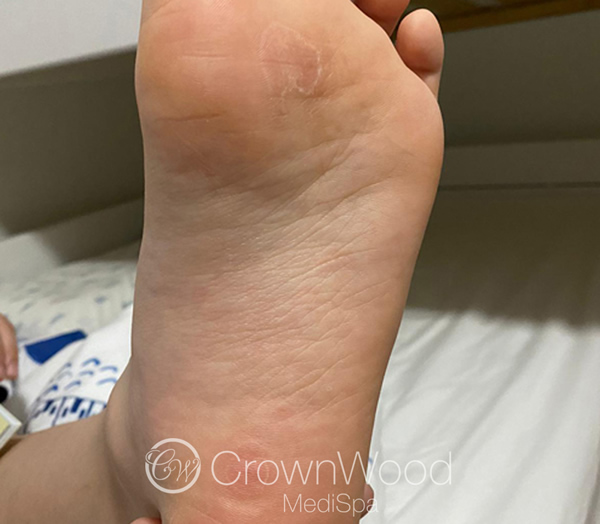 Why might I need to see a skin specialist?
During our daily life, our skin goes through a lot. Whether it's hormonal breakouts in teenage years or rough, dry skin from exposure to the sun over time, even minor skin conditions can have a huge impact on your self-confidence and comfort.
The skin is the largest organ of the body. Part of its job is to create a barrier against any injury and bacteria that could cause you harm. The appearance of your skin is often the most obvious way to see if something is wrong inside.
At some point or another during your life, from infancy to old age, you will experience some type of skin disease. In fact, a sixth of all visits to the family GP tends to involve a skin condition.
Dermatologists treat more than 3,000 different kinds of skin conditions. Some of the most common diseases they are able to diagnose and treat include:
Skin condition

Melanoma skin cancer is the 5th most common cancer in the UK. According to Cancer Research UK, it affected almost 16,000 people out of every 100,000 in 2015 alone, making up 4% of all new cancer diagnoses.

It is most commonly caused by exposure to UV rays from the sun over time and is usually diagnosed by a dermatologist after a patient notices an abnormality in a mole. Most patients with malignant melanoma will be treated with surgery, radiotherapy, and often chemotherapy too.

That is why it is extremely important that you visit a dermatologist urgently if you see a change in the size, shape or colour of one of your moles.

If you are worried about your moles, to get peace of mind, call 01344 482 882 and book a Skin Cancer Screening at CrownWood MediSpa today for just £120.

• Early diagnosis means less invasive treatment and saves lives
• 30 minute examination including lesion mapping
• Conducted by our highly qualified private dermatologist - Dr Benjamin (Chun-Man) Lee MBBS MRCP Derm(UK) MSc.
• Private consultation in our state-of-the-art MediSpa suite

Skin, nails and hair can all become infected by fungal infections, usually caused by a group of yeasts known as "candida". Though common, these are usually fairly mild and can be treated quite easily.

However, people with reduced immunity may experience more serious symptoms from a fungal infection so it is important that they visit a dermatology clinic as soon as possible.

These are contagious but unharmful skin growths which can appear when a virus affects the surface layer of your skin. They often go away themselves after a while, but a dermatologist can help to remove a wart that keeps coming back.

This condition is an inflammation of the skin which typically leads to an itchy rash and swelling in the affected area. This can be in the form of contact dermatitis, seborrheic dermatitis, and atopic dermatitis. Each of these conditions affect the skin differently, so be sure to consult a dermatologist about your symptoms.

Hand dermatitis can also be caused by contact with certain detergents and chemicals.

Many people do not realise that a dermatologist is also trained to deal with hair disorders too, such as hair loss. There are a number of things that can cause hair loss, from genetics to conditions like alopecia.

Your dermatologist may be able to find the cause of your hair loss and treat the underlying condition.

Acne is a disease which affects the oil glands in the skin and it is one of the most common skin diseases in the world. Almost everyone will suffer from acne at some point in their lives, usually as teenagers or young adults.

There are a huge range of causes which result in various types of pimples and spots. Acne can often result in depression, low self-esteem, and scarring, so it is important that you see a dermatologist if it is becoming severe.
Clinically Qualified Dermatologist in Bracknell, Berkshire
Dermatologists are qualified doctors who undergo advanced training in the diagnosis and treatment of various skin diseases. They have extensive knowledge and expertise in all areas of basic sciences, including biochemistry, microbiology, pathology, physiology, and endocrinology.
Since many skin conditions are often associated with other internal issues, dermatologists must also be familiar with all other medical specialities. A dermatologist is trained to carry out a huge number of procedures, such as skin grafts, removing lesions, and other kinds of skin surgery.
You should arrange to see a dermatologist as soon as you notice symptoms of a skin disease, or if the current treatment for an ongoing problem becomes ineffective. They will be able to offer you a number of different ways of curing your condition or managing it.
To book a dermatology consultation call 01344 482 882 or fill in our online form