Teeth Whitening in Berkshire
Crownwood Dental is extremely proud to be a trusted expert teeth whitening dentist in Berkshire, providing the very best in quick, affordable, effective and long lasting results.
We offer two types of teeth whitening, Zoom whitening (in-house) & a home teeth whitening kit (worn for at least two weeks).
Teeth whitening is a safe, non-evasive and cheaper clinical alternative to porcelain veneers and dental crowns, offering a complete smile makeover.
Teeth whitening should only be performed by a dentist or regulated dental professional, such as a dental hygienist or dental therapist, on the prescription of a dentist. At CrownWood Dental in Berkshire, all clinical options are explained to our patients before we start a teeth whitening treatment.
Home Teeth Whitening Kit from CrownWood Dental
Over time, teeth become stained by food and drink. Smoking further stains teeth, resulting in the natural white shade becoming darkened.
Teeth whitening is a successful and simple method of lightening the colour of your teeth. A custom made mouth tray is created. A whitening gel is placed in the tray which is worn while you sleep, or for short periods during the day. Results are normally seen over a 2-week period. Contact us about how to get your teeth whitening kits in Berkshire.

Zoom chairside whitening in Berkshire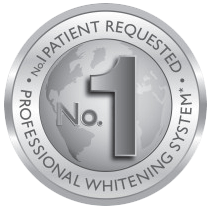 The Philips Zoom Chairside procedure can take up to 2 hours, an added pH booster application is applied to the teeth before the whitening gel, this accelerates the whitening process, delivering dramatic results.
The chairside treatment is then used in conjunction with Zoom DayWhite or NiteWhite for patients to continue whitening at home.
For those who like the convenience of whitening while they sleep, there is NiteWhite; for patients who prefer a shorter wear-time we would recommend our DayWhite Take-Home treatment.
How much does teeth whitening cost?
We have ensured our teeth whitening costs are extremely competitive when compared to other expert teeth whitening clinics in Berkshire. Our prices therefore start from just £320. To see our latest offers and prices please see our fees page.
Why Zoom is the top teeth whitening treatment in Berkshire:
Achieve your whitest smile in just 60 minutes with a visit to our Bracknell teeth whitening clinic.
Safe & effective on teeth and gums - 95% of patients surveyed agreed it produced excellent results.
Zoom uses LED light to accelerate whitening for maximum results in minimal time.
Carried out by our dentists so it's the healthiest option for your teeth.
Adjustable intensity settings which can be changed to eliminate sensitivity to maximise your comfort. (Almost all of our patients don't have any reactions to the sensitivity though and the standard settings do very well)
Where do you live in Berkshire?
If your looking for teeth whitening in Reading (a 20 minute drive away) or Bracknell (where a significant portion of our patients live) or live around any of the following Berkshire towns, then why not come along to our friendly and conveniently located dental practice in Bracknell for your teeth whitening.
Ascot
Bracknell
Crowthorne
Earley
Eton
Hungerford
Maidenhead
Newbury
Sandhurst
Slough
Thatcham
Windsor
Wokingham
Woodley
Our prices are very competitive, our care and service is outstanding as we aim to be known as the very best dental practice in Berkshire for teeth whitening. Read all our patients fantastic genuine reviews on all aspects of dentistry and teeth whitening.
How to find us (Postcode RG12 0TH)
Travelling by Train
Our nearest rail stations are Bracknell or Martins Heron.
Travelling by Car
For those patients who are driving, we are opposite the Hilton Hotel and Sainsburys on Opladen Way just off Bagshot Road towards the M3. Free car parking is available.
Get directions to our practice
Enter your post code below to get directions to our practice.
Disabled Access
We offer full access for people with disabilities to both the treatment rooms and toilets. If you have any special requirements, please call in advance to ensure we are able to meet them.
Teeth whitening reviews from Google My Business
"I recently had Treatment done by Dr.Amardeep Johal which consisted of laser teeth whitening and bonding of my teeth and i have to say that his expertise in this field is beyond imaginable i am very pleased with the treatment that was carried out on my teeth and will advise that you go to him if you need any treatment done.
Also i have been to dentist around Berkshire to get treatment done before but their is no one like Dr.Amardeep Johal when it comes to this profession if i could give 10 stars i would."

sukh johal (May 2020)
"My wife and I came to Dr Wong and Crownwood Dental following a few years of neglect at a nearby dental surgery. Dr Wong listened to us and how we felt about our state of oral health and, slowly, slowly with the help of his first-rate hygienists, are now enjoying pretty good dental health. Crownwood Dental Practice is welcoming from the moment you enter the door. The receptionists are welcoming and helpful, the waiting area spotless with comfortable chairs and newspapers, magazines and a TV.
Dr Wong's immaculately kept surgery looks out on to a leafy wooded area which helps you to relax. Dr Wong's manner is friendly and puts you at ease. You're in the hands of a master craftsman and you know it! My wife has had a beautiful set of composite veneers and whitening to her front teeth which makes her look younger.
In my job at Heathrow Airport, I get to see a lot of Americans who have had veneer and whitening treatment and it is always noticeable as unnatural. My wife's looks completely natural. Why composites, you may ask? Dr Wong's philosophy is never to destroy healthy teeth unnecessarily!
Dr Wong is absolutely passionate about his profession and invests heavily in the latest equipment. A specialist machine produces his own crowns to match the exact profile of your tooth so you don't need to return a second time for it to be fitted. That's what your paying for when you decide to go private."


Ian Sterrett (Aug 2019)
Video Patient Teeth Whitening Testimonials
We have helped many customers from Berkshire get their teeth whitened. Below are two video reviews.