Invisalign® Full in Bracknell, Berkshire
The complete teeth straightening solution in Bracknell, Berkshire
Over 10 million people across the globe have benefitted from Invisalign treatment, making it one of the leading teeth straightening solutions in the world.
Offering perfectly straight teeth in half the time of traditional braces, Invisalign is designed to have minimal impact on your lifestyle. Each invisalign brace is custom-made specifically for your teeth so it is comfortable to wear, removable and virtually invisible making it hard for anyone to detect you are wearing them.
Try the NEW Invisalign SmileView Experience.
Take a selfie and see your new smile in 60 seconds.
Click here
to download the pdf and start your SmileView Experience.
What is Invisalign Full?
Invisalign Full is the most commonly prescribed Invisalign treatment on the market because it can be used for even the most complex cases. It is the most popular Invisalign product among our patients in Bracknell and across Berkshire for fast and effective teeth straightening.
Invisalign Full allows for maximum flexibility in your treatment, meaning our dentists can create a fully personalised treatment plan depending on the severity of your case and the number of aligners you need.
And, as with all other Invisalign products, Invisalign Full includes easy-to-use removable aligners enabling you to eat, drink and brush just as you normally would. Made from a medical-grade clear plastic, Invisalign Full braces are also incredibly discreet.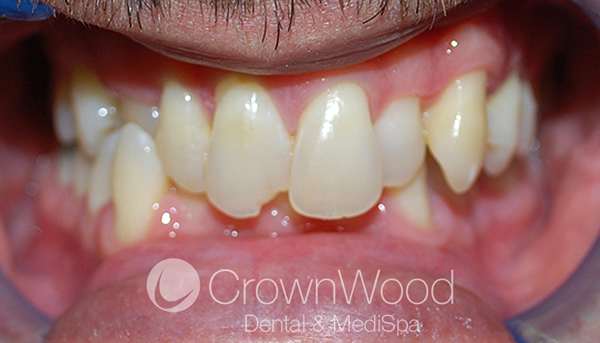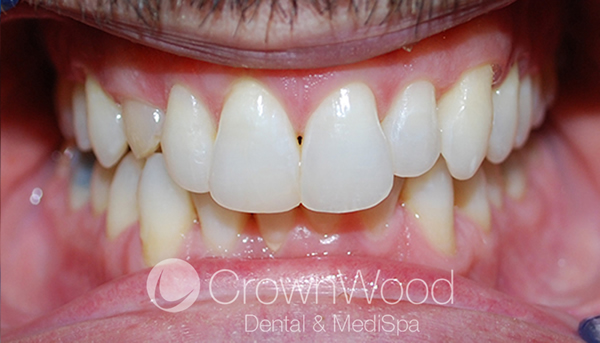 Problem:
Upper and lower crowding and crooked, chipped teeth.
Treatment time:
2 years with Invisalign Full, bonding and teeth whitening
What can Invisalign Full help with?
The reason Invisalign Full is so popular is that it can effectively correct a wide range of orthodontic issues, including:
Severe misalignment of teeth,
Serious overcrowding cases,
Overbites,
Underbites,
Cross bites.
Open bites, and
Gaps between the teeth.
At CrownWood Dental in Berkshire, we have happily helped a huge number of our patients achieve their dream smiles with Invisalign Full, you can see one example below and more on our before and after Invisalign page.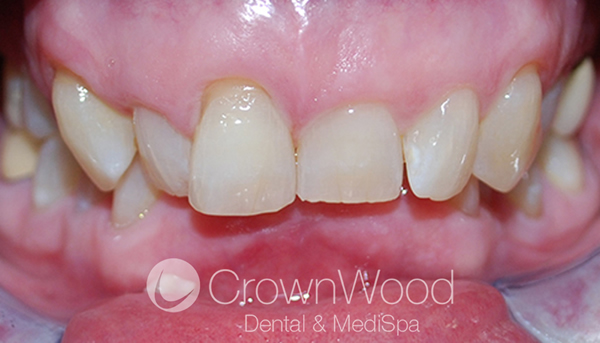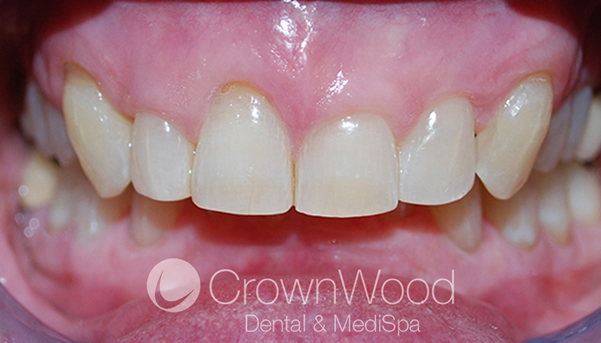 Problem:
Upper and lower crowding and crooked teeth with an uneven smile
Treatment time:
16 months with Invisalign Full
How does Invisalign Full work?
Invisalign Full utilises a series of bespoke aligners made to fit perfectly around your teeth. Using our industry-leading ClinCheck technology, we're able to make a 3D virtual treatment plan through digital impressions of your teeth.
This shows how your teeth will look through each stage of your treatment, as well as how long your Invisalign Full will take to correct the issues.
As the treatment progresses, you will be given new aligners, each slightly different to the last, to be worn in two week increments. These are custom made to fit comfortably around your teeth, applying controlled pressure to gently guide your teeth into their desired position over time.
You will need to wear your Invisalign Full aligners for at least 22 hours every day, removing them only to eat and clean your teeth. Each time you switch to the next aligner in your series, Invisalign Full will bring your teeth closer and closer to your final result.
One of the best things about Invisalign Full is that it comes with an unlimited number of aligners, no matter how many you may need; making it perfect for every treatment.
How long does Invisalign Full take?
Where traditional braces may take between two and three years to correct misaligned teeth, Invisalign Full only takes 12 to 18 months on average; essentially halving your treatment time for the same superb results.
The actual amount of time your treatment takes will all depend on the complexity of your case. Of course, the more aligners you require to get your teeth to where they need to be, the longer your treatment will take.
At your Invisalign Full consultation at our Bracknell-based practice, your orthodontist will use our ClinCheck technology to work out how long your Invisalign Full treatment will take to achieve your dream smile.
Benefits of Invisalign Full braces
The main attraction of Invisalign Full for our Berkshire patients is that they are virtually invisible. The clear plastic shaped perfectly for your teeth means people won't even be able to tell you're wearing them. You can read more about Invisalign vs. Braces on our webpage.
Your custom-made Invisalign Full braces will be extremely comfortable. The smooth plastic trays means there are no sharp edges or wires to cause cuts or irritation in the mouth. In fact, they'll just feel like a streamlined version of a mouth guard or teeth whitening tray.
Your Invisalign Full aligners are also easily removable, so you can still enjoy your favourite foods without having to worry about your brace. You can simply pop your aligners out before each meal, meaning you can eat chewy and crunchy foods like steak, apples and popcorn without the risk of any wires breaking; making the Invisalign Full incredibly convenient.
These removable aligners make it easier than ever to practice better oral hygiene than with any other brace. You can brush, floss and even whiten your teeth as normal with no fiddly wires or brackets to consider – giving you the freedom to live your life as normal.
Types of Invisalign at our Berkshire dental surgery
Whilst Invisalign Full is the most comprehensive invisible brace on the market, we also have a number of different Invisalign systems at our Berkshire practice for a variety of different cases.
At CrownWood Dental in Bracknell, in addition to Invisalign Full, we also offer:
How much is Invisalign Full?
Our Invisalign Full treatment package comes with a number of valuable extras. For just £4,300.00, you will receive:
An unlimited number of bespoke aligners no matter how many you may need
A 3D virtual treatment plan using our cutting-edge ClinCheck® technology
All impressions, 3D digital scans, photos and x-rays that you may need
Unlimited refinements as and when you may need them
A professional home teeth whitening kit to complete your perfect, new smile
Removable retainers are provided at the end of your treatment to maintain your beautiful smile
12 months aftercare at our Berkshire practice following your Invisalign Full treatment
For details of payment plans and a handy finance calculator see our Invisalign cost page.
Book your Invisalign Full consultation in Bracknell, Berkshire
Read our fantastic Invisalign reviews to see how patients' lives have been transformed with our Invisalign treatment. We can help you achieve your perfect smile. To book your Invisalign Full consultation with our orthodontic experts at CrownWood Dental in Berkshire, please call us today on 01344 482882. You may also wish to pop in to our Bracknell based surgery to make your appointment in person.
Invisalign invisible braces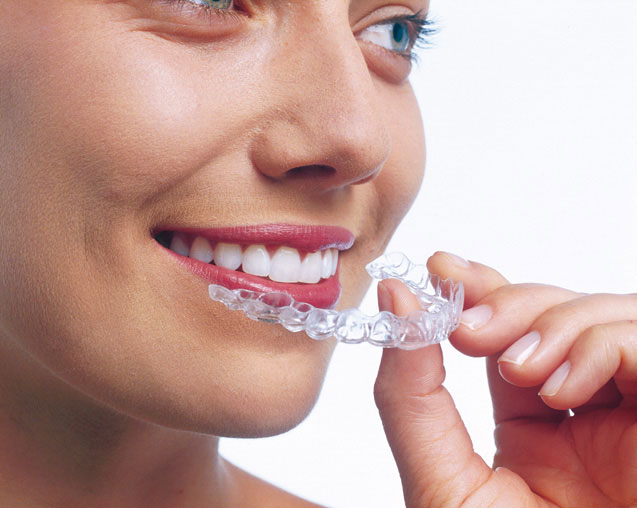 Custom-made for you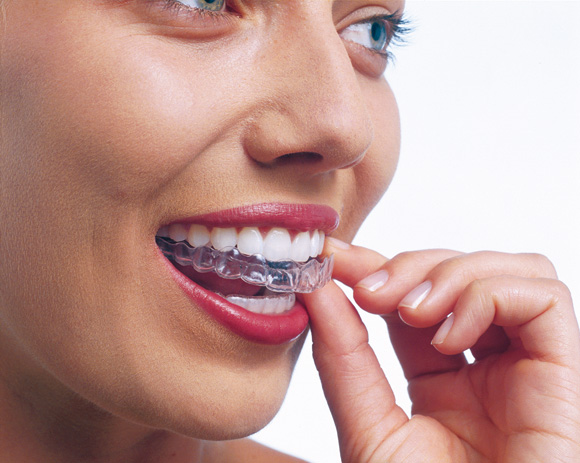 Easy to wear and clean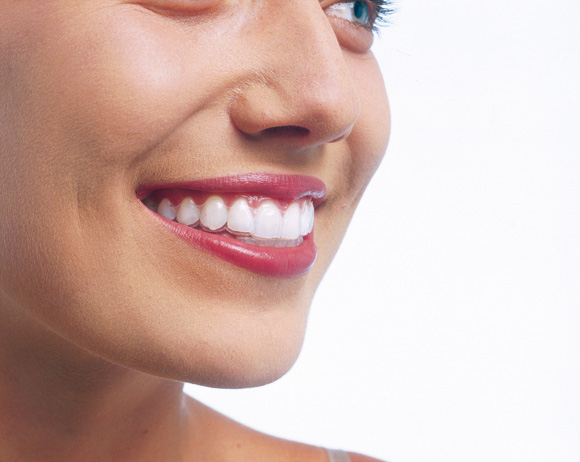 Comfortable and invisible