Month 2:
I am well into my Invisalign treatment now and getting on really well with it. I feel like I have got myself into a really good routine with it all, which has really helped with my progress. To achieve the best results, you need to be wearing your retainers all the time, apart from when you are eating and drinking hot liquids. I have found that cleaning my retainers while I'm having my dinner is the best time to do this. I just fill a mug with hot water from the tap, pop in a retainer, a brite tablet and leave my retainers to soak while I eat. Don't forget to give them a thorough rinse before you put them back in as they won't taste very nice afterwards.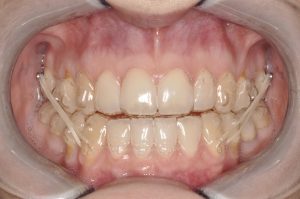 As a reminder, the reason I'm having this treatment done, is to correct my class three bite (in other words my lower jaw sits further forward). Because of this, during my Invisalign treatment, I need to use elastics to slowly bring my lower jaw back. During my next appointment Dr Wong reviewed my progress and attached some buttons to my very back upper molars, this is so the elastics have something to hook onto. Then my lower retainers have little hooks towards the front of my lower teeth, to create that motion of pulling my lower jaw back.
Not everyone will be using elastics during their treatment, but if you are, persevere with them as they are a little bit fiddly to put on. I now have a technique of putting them round my index finger and my thumb and holding them in place of the buttons and hooks and let the elastics roll off my fingers and into place, but you will just have to practice and persevere with them yourself.