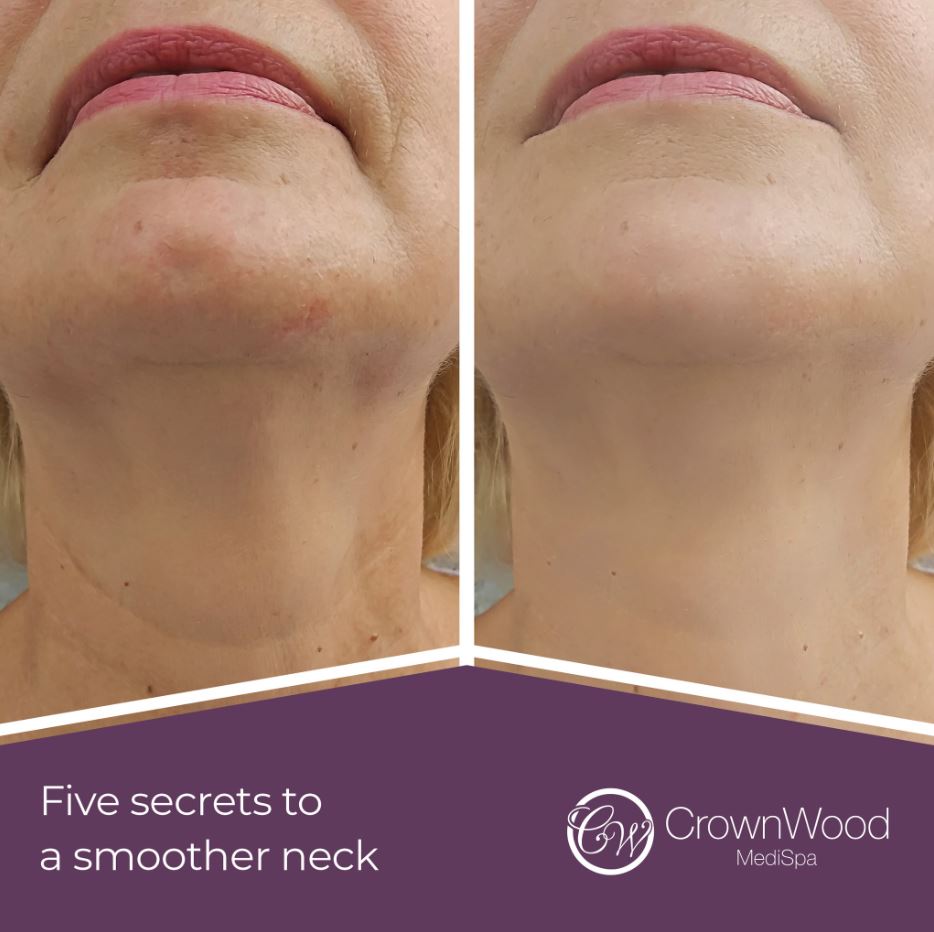 Although neck wrinkles are a natural feature of the aging process
there are a variety of things you can do to smooth them out.
Here are some of the most effective –
❶ DO NECK EXCERSISES – to tighten and tone the neck muscles, increase blood flow to the area, and boost the production of collagen
❷ USE RETINOL-BASED NECK CREAMS AND SERUMS WITH VITAMIN C – Retinol is invaluable when it comes to cell regeneration. It speeds up the process of cell turnover to produce younger, softer-looking skin
❸ EXFOLIATE YOUR NECK – removing dead cells not only improves the skin's appearance but it also gets rid of dirt and oil accumulated in the pores leaving fresh skin that is more easily penetrated by anti-aging products. Just remember to use a light touch to ensure you don't over-exfoliate.
❹ CONSIDER DERMAL FILLERS – this is a great way to plump up the skin in a very targeted way to help smooth wrinkles. At CrownWood MediSpa, our Medical Doctors are always available to discuss if dermal fillers are a good option for you.
❺ WRINKLE REDUCTION TREATMENTS that use small doses of Botulinum Toxin (Botox) to relax the muscles that have created the neck wrinkles are a very effective of giving you a smooth, youthful looking neck. Always ensure any treatments are administered by highly trained Medical Doctors like we have here at CrownWood MediSpa.
If you would like to book a consultation with one of our facial aesthetics experts, do get in touch with Lisa Bonello, our Patient Care Co-Ordinator on
☎ 01344 300 417 📱 07765 333 768
📧 Lisa at pc@crownwooddental.co.uk