Since opening our MediSpa doors in December 2017, we have grown our clinical team and treatment options extensively.
To celebrate this progression, we have created a brand new brochure to showcase the extensive range of treatments we now offer to all our clients.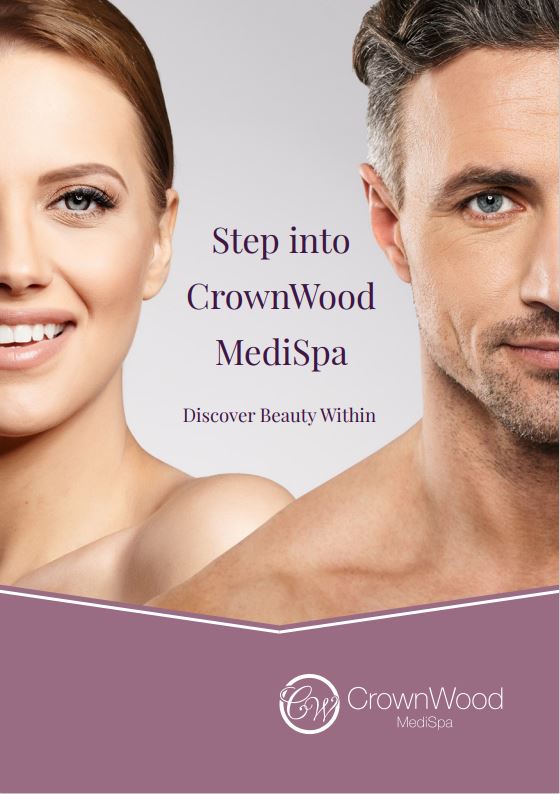 Within the brochure, we also introduce you to our growing team of highly experienced practitioners – Alice Hau, Dr Benjamin Lee, Dr Victoria Jaminson and Dr Aman Ruprah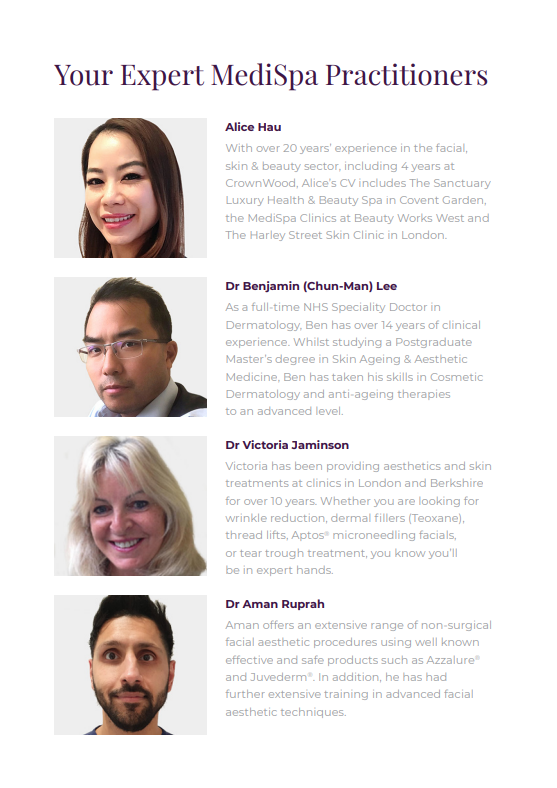 Check out our full range of treatments
We now offer a multitude of the very latest treatments for you to choose from including;
Some of the pages from our new MediSpa brochure
Facial Rejuvenation & Peels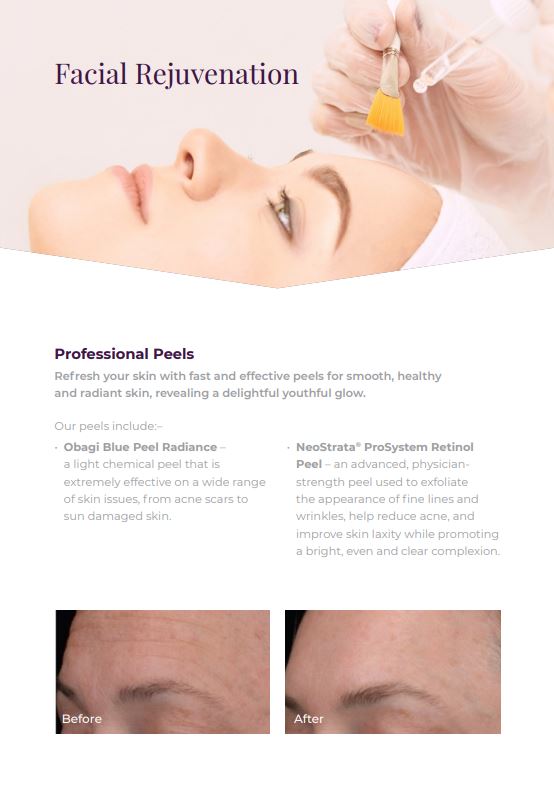 Laser Skin treatments with Harmony including; ClearSkin, ClearVein, ClearLift, Tattoo removal, iPixel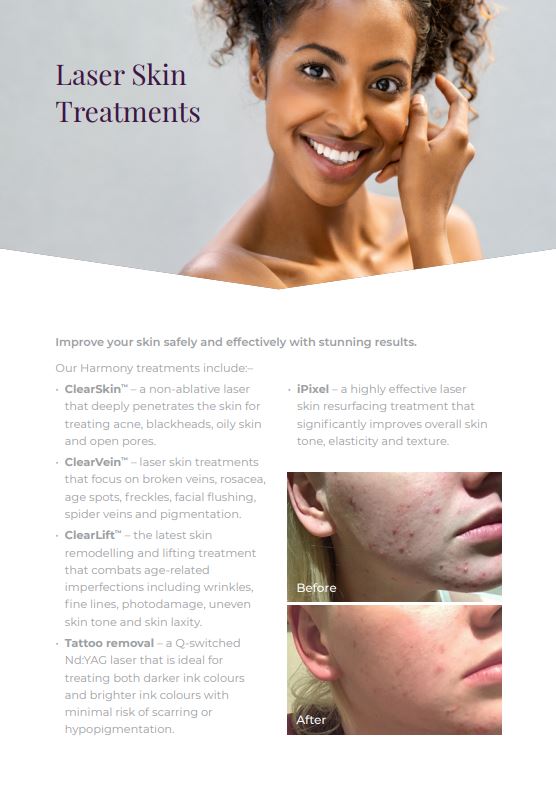 Facials including Triple Action Signature Deep Cleanse, Bespoke Deluxe Facial, Power Pure Vitamin C Booster, Microneedling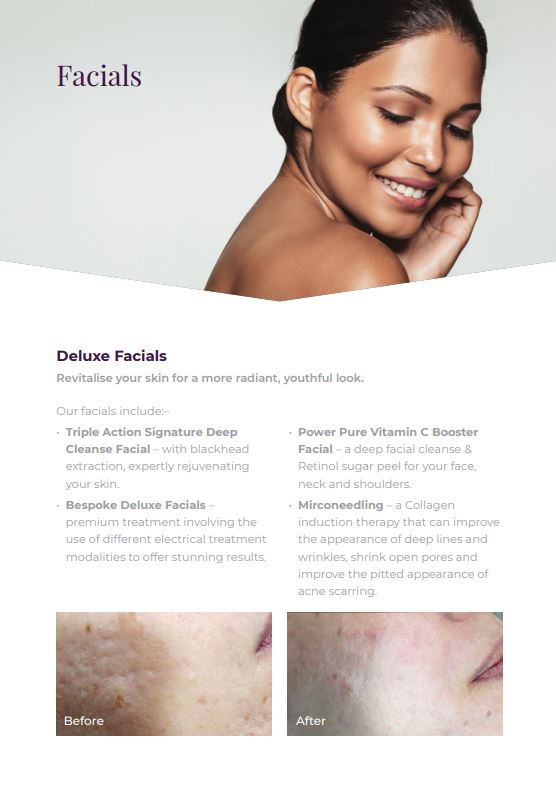 HydraFacial – the ultimate in skin health for Life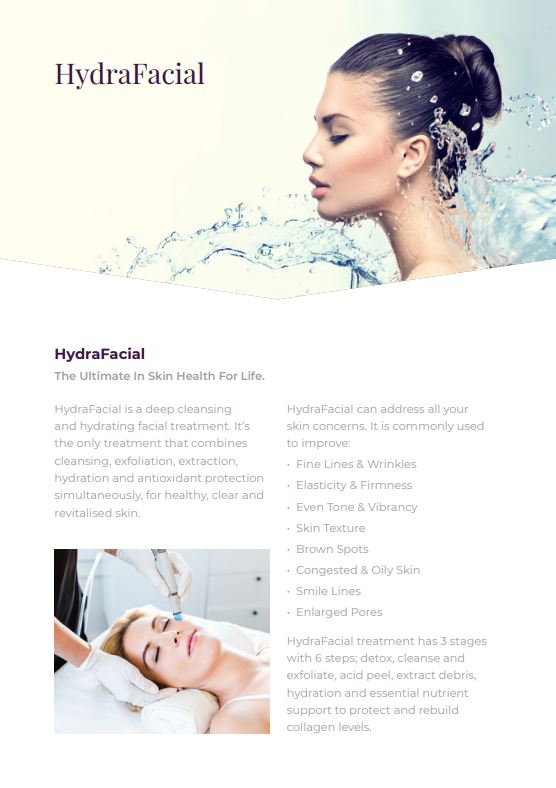 Wrinkle Reduction Treatments with Teoxane, Azzalure, Profhilo, Aptos and Teosyal Redensity 1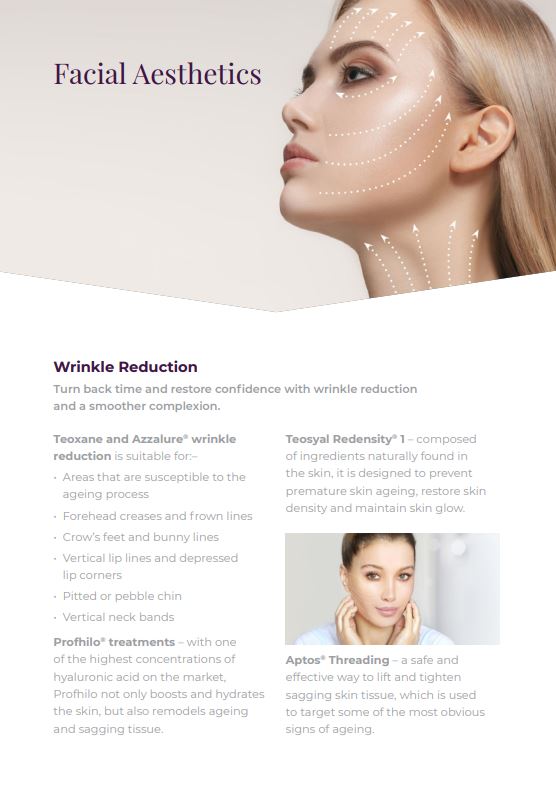 Dermal and Lip fillers with Teoxane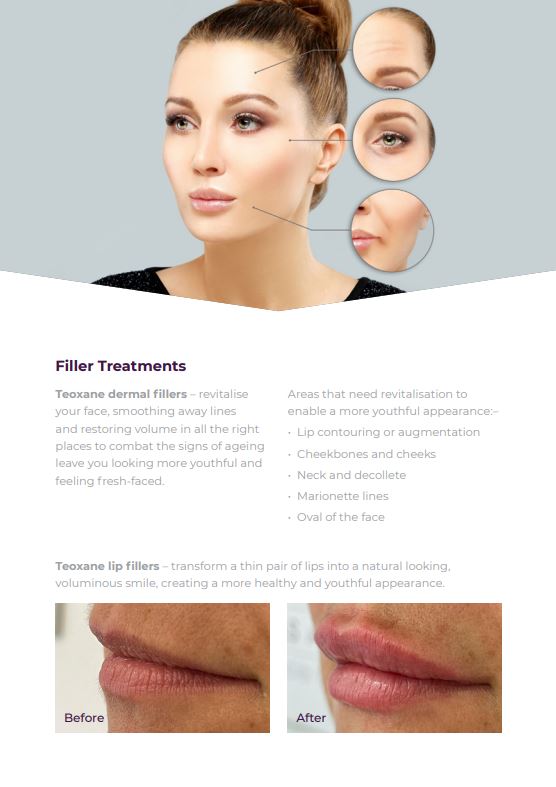 Male Grooming Treatments including hyperhidrosis, tattoo removal, hair removal and hair loss treatments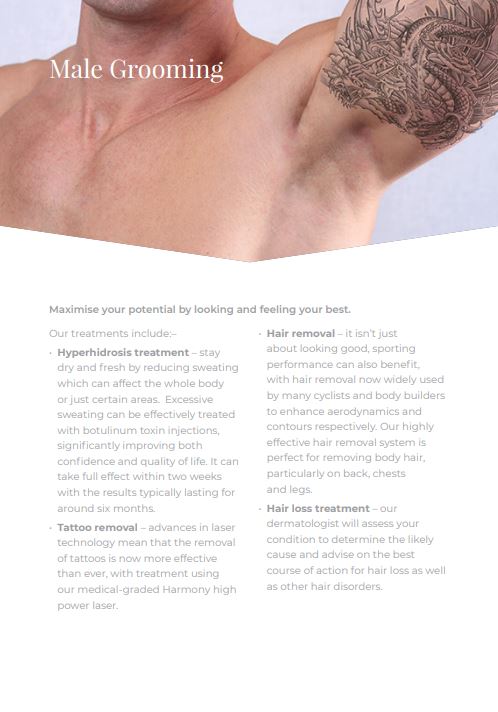 Dermatology including Cryotherapy, removal of fungal infections, melanoma skin cancer screening, eczema, dermatitis, warts, skin growths and acne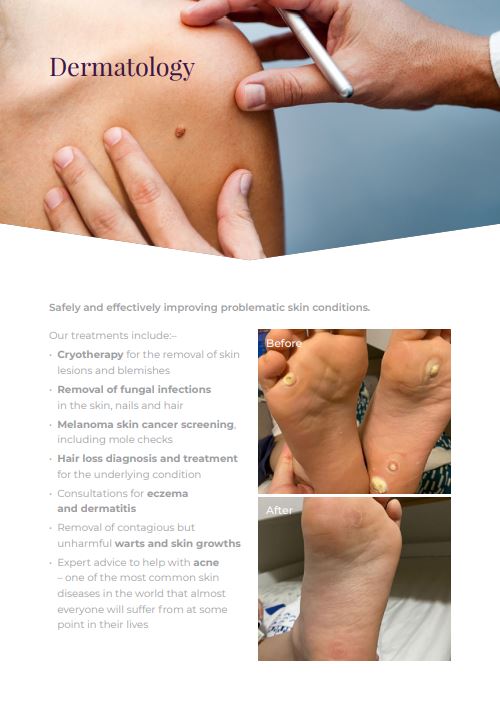 We even include some fantastic testimonials from some of our delighted patients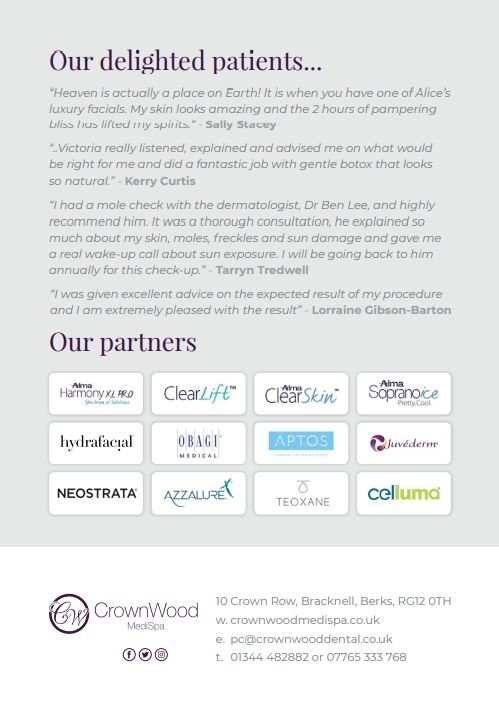 We have attached our MediSpa Price Lists to help you decide which treatments you would like to book first:-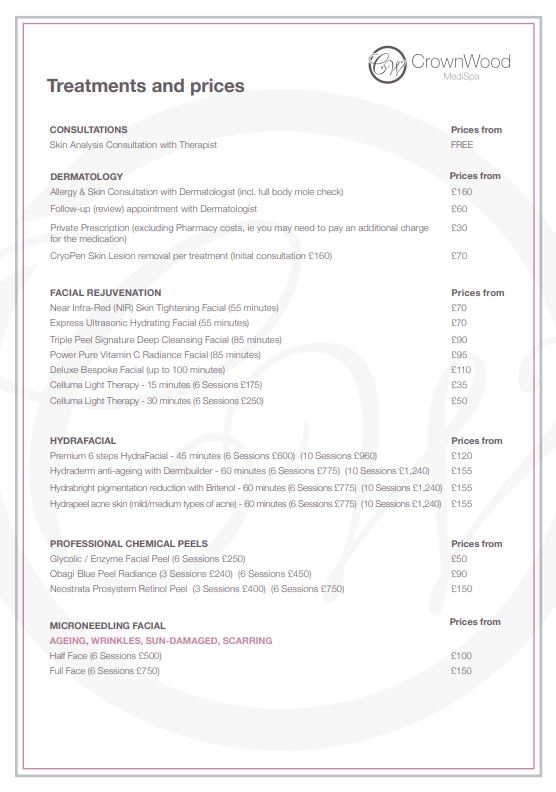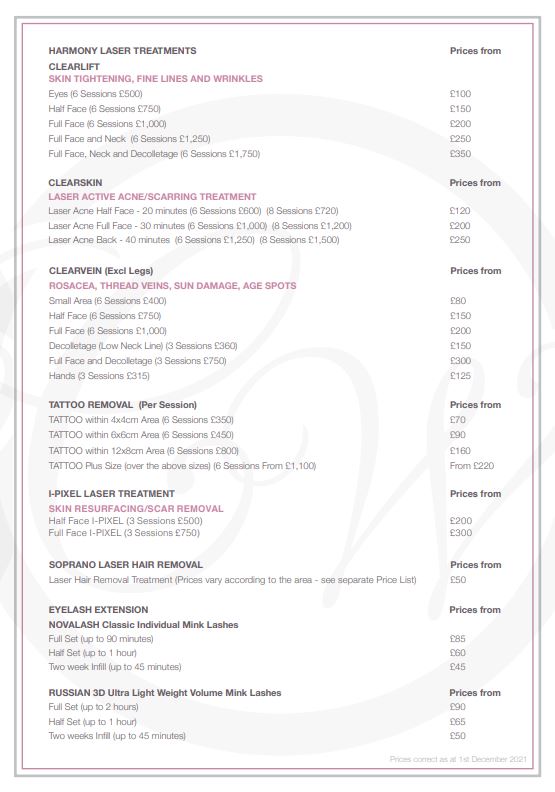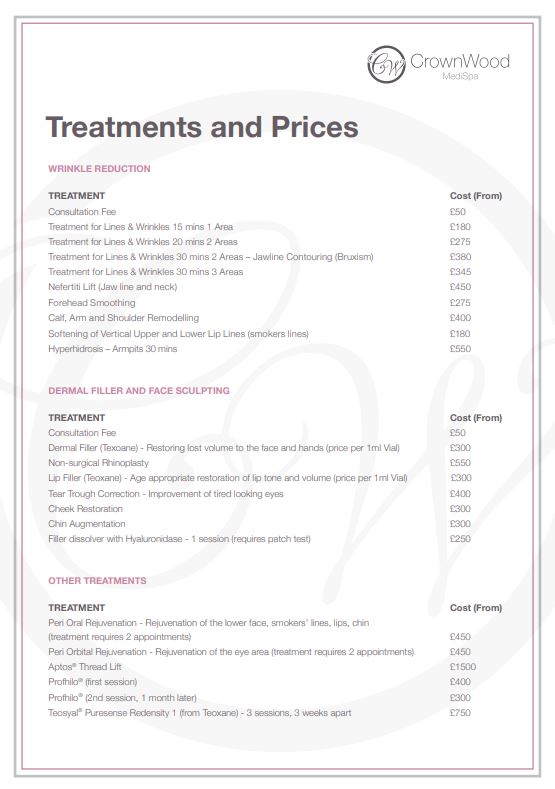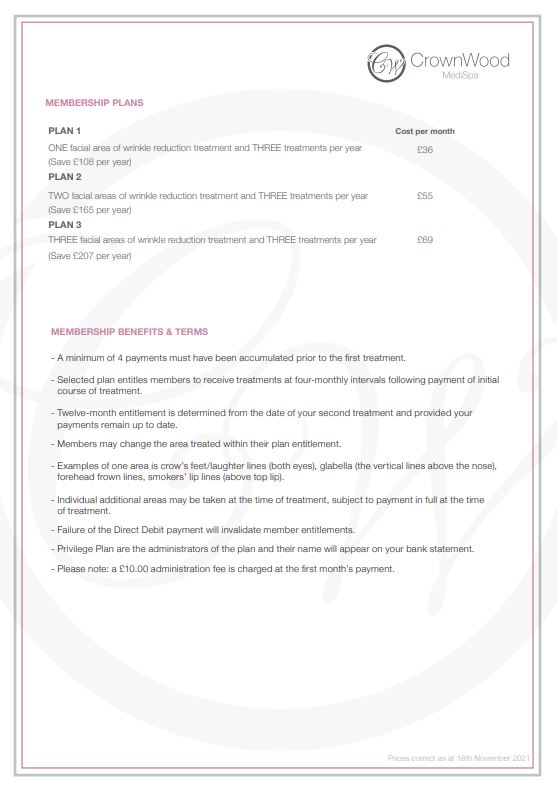 Why not download a copy of our new brochure and price lists?
You can download the MediSpa Brochure HERE
You can download the MediSpa Price List HERE
You can download the Facial Aesthetics Price List HERE
For more information or to book an appointment with any of our MediSpa team, please contact Lisa Bonello, our Patient Care Co-Ordinator, 01344 300 417 or 07765 333 768 or email pc@crownwooddental.co.uk.