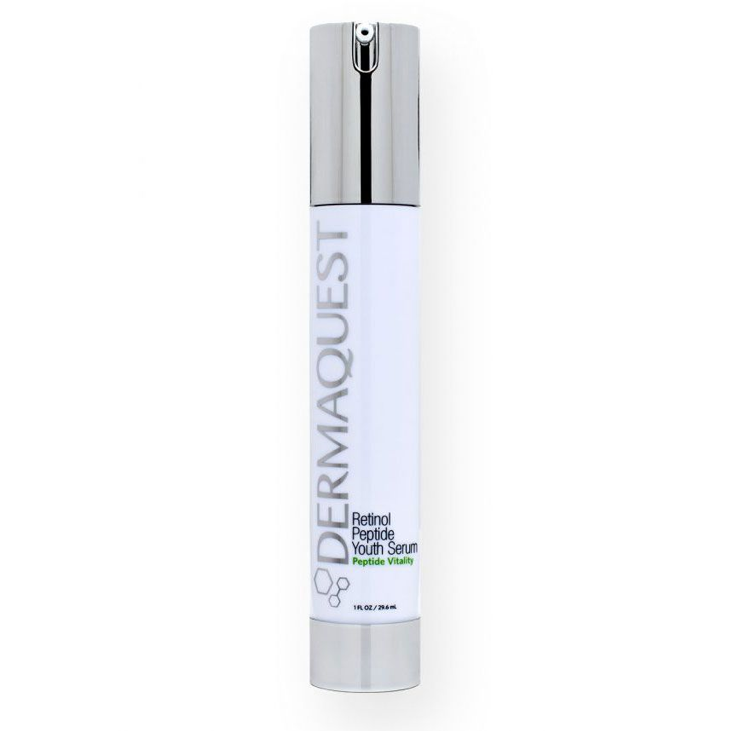 This combination of retinol and peptides has a phenomenally restorative influence on the many layers of our skin. By promoting collagen and elastin production, Retinol Peptide Youth Serum effectively encourages skin to firm while filling in fine lines and wrinkles. Skin will be softer, smoother and more brilliant from the inside out as pores diminish in size and a 'new you' shines through.
Description / how to use
Retinol Peptide Youth Serum increases cell turnover, thickens lower dermal layers, repairs photo damage, and significantly reduces the appearance of wrinkles and lines. Apply a pea-size drop of serum, or thin layer of moisturizer once a week for one week, two nights a week for two weeks, three nights a week for three weeks, and then every night indefinitely.
SPECIAL OFFER
£69.99 (was £76.00)
FREE First Class Postage. FREE Collection from the practice (Wednesday's only during COVID-19 lockdown)
While Stocks Last. Terms and Conditions Apply
TO ORDER
Contact Lisa Bonello, our Patient Care Co-Ordinator on 07765 333768 or by email at pc@crownwooddental.co.uk to order.
You can also get in touch via Facebook, Twitter and Instagram.
---
THE 10 FUN FACTS OF RETINOL
Fact #1: Retinol literally slows down the ageing process – and increases collagen production
Up to our mid-30s, our skin turns over and regenerates every 28 days. But after that, skin turnover slows down and our cells regenerate every 50-60-70 days, which leads to drier, duller, more wrinkled skin.
While most anti-ageing skincare products work on a topical level, retinol targets skin at a cellular level – sinking into your skin and speeding up cell turnover to help your body generate fresher, smoother, brand new skin. Pretty exciting!

Retinol also increases collagen production, which is responsible for smoothing, firming, plumping, and strengthening your skin. When you use retinol, you not only protect yourself from forming new wrinkles, you also treat the ones you already have.
Fact #2: Retinol doesn't just help prevent wrinkles…
Yes, retinol smoothes your current fine lines but also prevents new ones from forming. Because it exfoliates on a cellular level, retinol also reveals brighter, smoother skin. Retinol also evens out your complexion – fading dark spots, sun spots, hyperpigmentation and acne scars. And, last but not least, retinol treats acne by regulating oily skin and keeping pores from clogging. In fact, the popular oral acne medication Accutane is an oral retinoid.
Fact #3: Retinol & Vitamin A the same thing
Also known as Retinol, Vitamin A can help increase the appearance of firmness, diminish the look of fine lines and wrinkles, significantly improve uneven skin tone, smooth and finally refine the surface of skin as well. Retinol is definitely a powerful multi-tasker." Linda Blahr, Head of National Training at SkinCeuticals.
Fact #4: You shouldn't apply retinoids during the day
Retinol breaks down in sunlight, which is why most retinol products are held in opaque packaging. Exposure to UV light renders the product less active, which makes the use of it less beneficial. "Retinol is prone to increase photosensitivity within the skin," says Linda Blahr, Head of National Training at SkinCeuticals. "Always use a high, broad spectrum sunscreen when using this product."
Fact #5: Retinoids are for all skin types
While retinol is suitable for everyone, different strengths are appropriate for different skin types. Retinol can be damaging if your skin is sensitive, enhancing inflammation and causing eczema, rosacea and peeling. Retinol can be quite drying, so it is recommended for those with dry & dehydrated skin to seal the product in with a moisturiser at the very least.
Fact #6: Retinoids don't have to irritate your skin
Retinol causes redness, dryness and even flaking – however this can easily be avoided or minimised by gradually introducing the ingredient into your skincare regime and building a tolerance to it. When you start out, choose the gentlest formula and start slowly. Apply a pea-size drop of serum, or thin layer of moisturiser once a week for one week, two nights a week for two weeks, three nights a week for three weeks, and then every other night indefinitely.
Fact #7: Retinoids do not thin the skin
Retinol actually thickens the skin, increasing cell turnover and collagen production for thicker, more youthful skin.
Fact #8: You should start using retinol in your 20's
While there is no set time to use retinol, most dermatologists advise introducing the product in your mid-twenties, particularly if you suffer from breakouts or pigmentation. It is suggested that one uses retinol for 3 months, then takes a three month break. This is due to research that suggests cell turnover is no longer increased after 3 months of retinol usage.
Fact #9: Retinol, Retin-A & Retinoid are not the same thing
Retin-A is a prescription level retinoid that is stronger in nature, used for acne as well as aging. Retinol is the over-the-counter version of Retin-A, which becomes the active Retinoic Acid when it hits the skin. Retinoids are the family that Retin-A, Retinol & Retinoic Acid belong to. It is a chemical compound of Vitamin A.
Fact #10: Retinol cannot be used with acids
Benzoyl peroxide, AHAs & BHAs are known to reduce productivity within retinoids, so do not mix them. These will also compromise the skin, as both acids and retinol can cause irritation.