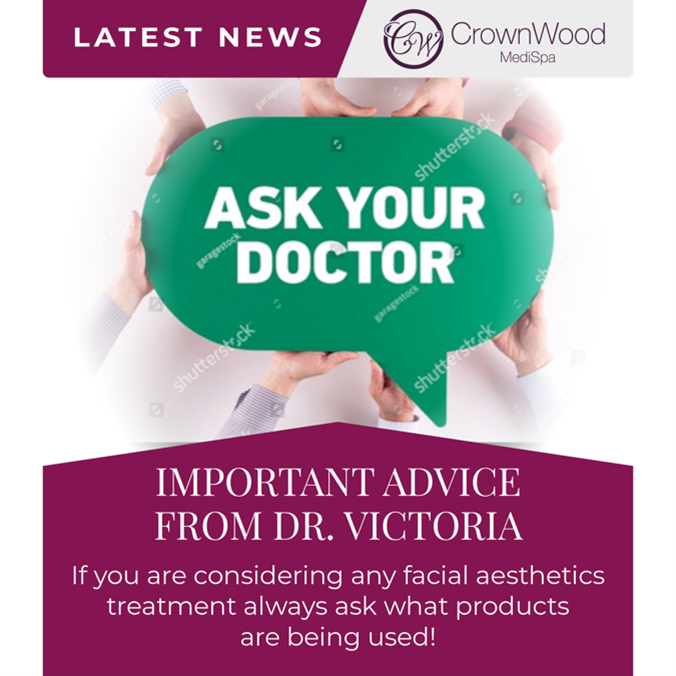 Here is some fantastic advice from Dr Victoria Jaminson BDS, our highly qualified Medical Doctor here at CrownWood MediSpa.
"Always ask your injector what toxin they use.
Botulax, a product from South Korea which is licensed there and in other countries but not in Britain. Under the Human Medicines Regulations 2012, it is UNLAWFUL to sell or supply an unlicensed medicine, which includes practitioners selling treatments with these products.
Allergan Botox, Azzalure and Bocouture are the only 3 approved products in this country. Make sure your clinician uses U.K. pharmacies with licensed products.
There have recently been reports of many complications in the industry caused by non regulated clinicians using products from pharmacies that are not allowed to be injected in this country!!
Always do your homework and ask what is being used on your face"
At CrownWood MediSpa, you can rest assured that all our Facial Aesthetics treatments are performed by fully qualified Medical Doctors and all our products are sourced from a UK regulated pharmacy which are traceable by manufacturers' batch number.
If you would like to book a consultation with one of our facial aesthetics experts, do get in touch with Lisa Bonello, our Patient Care Co-Ordinator on
☎ 01344 300 417 📱 07765 333 768
📧 Lisa at pc@crownwooddental.co.uk