Harmony Multi-colour Tattoo Removal is a high power Q-switched Nd:YAG laser, ideal for treating darker ink colours (black, blue and green), while the 532nm wavelength is effective for brighter ink colours (reds, orange and yellow).
The Q-Switched can effectively work by vibrating and breaking down the ink particles in the tattoo. As the area heals, the body's immune system flushes away the shattered ink particles, casing the tattoo to fade with minimal risk of scarring or hypopigmentation.
Treatment Summary
Treatment Time
Various estimated

Back To Work
Next day estimated

Anaesthetic
None or topical if required

Recovery Time
Up to 24 hours estimated

Sessions Recommended
Minimum 6-8 treatments/once every 8 weeks

Period of Sensitivity
14 days estimated

Optimum Results
4–6 weeks*

Potential Side Effects
Redness, bleeding, irritation, itchiness*

Length of Results
Long Term Results*
*Results may vary from person to person.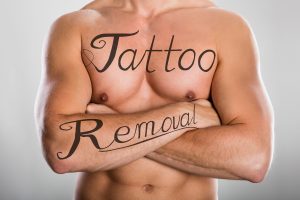 Laser Tattoo Consultation Procedure
Prior to treatment, a free consultation at our Bracknell clinic is carried out in which a medical history is taken to confirm suitability for treatment. There is also an opportunity for any questions you may have to be answered. Before treatment commences you will be asked to give informed consent, and a small test patch will be carried out at least 24 hours prior to your first session.
You can find our further information about Laser Tattoo removal by clicking HERE
Call us on 01344 482 882 or email pc@crownwooddental.co.uk to book your FREE Consultation.